The Last Naval Veterans of the War of the Rebellion
By Roger W. Kuchera
As with so many subjects pertaining to the War of the Rebellion ("WTR"), researching information on a particular subject can be an arduous process. In many cases professional authors can't or won't share information with us. Official military archives can't share data or we don't have the bona fides to access the data.
In any case, this article is an attempt to answer a question, which came to us in 2006 whilst in Troy, NY. As is our wont, the group was holding forth at our display regarding various subjects on the Navy's contribution during the WTR. Someone asked us; "When did the last Civil War sailor die?" We had no answer to their question and observing the standing group rule, we said we didn't know but that we would find out. It is a promise that members of the group take seriously.
Thus began our efforts to track this information down. This has not been a solo effort on my part. Others in our group and folks from other groups have sent in information. This is truly a composite team effort. I was "brushed off" at several official contacts or was told that the data was not recorded. Maybe we shouldn't think too harshly of them as they probably have their hands full with archival data on more modern conflicts.
Information regarding the last survivors from the Union and Confederate armies exists in abundance. The last Union veteran is known to be Albert Wolfson, drummer boy from the 1st Minnesota. He died in 1956. The most recent and thorough study, finds that the last authenticated veteran of the Confederate army was Pleasant Crump of the 10th Alabama, who died on 31 Dec. 1951. 1
A careful search of the sources, at least those available to the author, dealing with the last naval veterans reveals only "candidates" and none are known to bear the official appellation "Last Naval Veteran of the Civil War." For this article what information has been gathered will be shared with those interested. If at any time anyone can add to the data cache please let me know and I will append the information to the NMLHA website library.
At this point in time it seems we have the following nominees:
Henry Doll USN 1847 – 1947
James Burns USMC 1845 – 1944
Billy Rufus Stanford CSN 1850 – 1937
Samuel B. Grant CSMC 1845 – 1944
It appears from information at hand that the last surviving Union sailor was Henry Doll. There is information existing from 1947 supporting the claim. I have been unable to find a great deal of written material on Henry Doll. He served aboard the USS Portsmouth and the USS Brooklyn. There are extant, several pictures of Doll from a Philadelphia newspaper dated 1946 and 1947. At that point in time he was a resident-patient of the Philadelphia Naval Hospital. The photograph from 1947 says he was 99 years old. The following was extracted from that paper: "Only Living Civil War Navy Veteran; A chipper skipper despite his 97 years, is Henry Doll, who claims to be the only living Naval veteran of the Civil War. A resident-patient at the Philadelphia Naval Hospital, has a remarkable memory and can recall names, dates and places with ease. He is one of the few Civil War veterans who readily admits to never having seen Lincoln. He said, 'The closest I ever got to him was seeing his picture.'"2 He died on February 8, 1947.
James Burns, USM(C), was from Delaware County, Pennsylvania, was born in November 1845. He enlisted at the Marine Barracks, Washington, on September 9, 1862. He spent six months at the Marine Barracks, Washington, D.C. He was then transferred to the Marine detachment at the Gosport (Norfolk) Navy Yard, Virginia, on March 13, 1863. He was admitted to the Naval hospital on March 21, 1864. He was again admitted to the Naval hospital in May and was under treatment until September 9, 1864. He was dis­charged on a surgeon's certificate of disability. He died in July, 1944.
Billy Rufus Stanford, CSN, was born in 1850. At the age of 13 he worked with his father in the Columbus, Georgia, Naval Iron Works, on the banks of the Chattahoochee River. Billy and his father worked in the boiler shop, making boilers for river ironclads and gunboats. That year, all the workers were brought into military service, enlisted into the Confederate Navy. When Union General Sherman marched his army through Georgia in 1865, Billy and his father defended the city and ironworks in Company C of the Naval Battalion. There are no known photographs of Stanford. He died in 1937. 3
Samuel B. Grant, CSMC, was from Waverly, Virginia, was born in December 1845. He was enrolled at Camp Lee, Virginia, on May 5th. He chose service in the by enlisting in the CSMC on June 7th. He served with Company C, Confederate States Marine Corps, at Camp Beall, Drewry's Bluff, Virginia. He was later transferred to the Marine Guard attached to the ironclad CSS Fredericksburg on February 28, 1865. Grant was taken prisoner at the naval hospital in Richmond on April 3, 1865, and was confined at Libby Prison until April 23rd when transferred to Newport News. He was released on June 15, 1865. He died in August, 1944.
There were a number of other candidates for the honors for the Union Navy; Ezra S. Bostwick (CT) (died March 13, 1932); Michael Harlow (MA) (died in 1939). An interesting adjunct on Harlow is that he outlasted all of the staid-looking Army veterans in the picture below.
I was unable to find any such information for the Revenue Service. Should any information come to light, at a later date, it will be appended.
In summation, it appears that the US Navy holds the honor of having had the last surviving naval veteran of the WTR.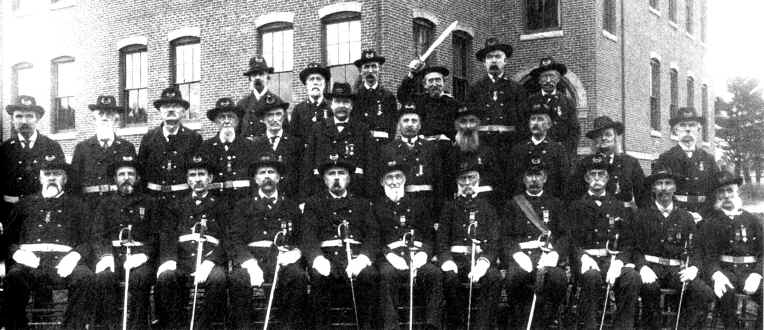 __________
Notes / Bibliography:
(1) Marvel, W., Blue & Gray, February 1991
(2) Photographs and copy from a Philadelphia newspaper (Enquirer ?), circa 1946 & 1947
(3) Excerpted from an obituary in an unknown Florida newspaper.
(4) "The Last Surviving Marines of the Civil War," David Sullivan, Military Collector & Historian, Journal of the Company of Military Historians, Vol. 56, Winter 2004, Washington, D.C., p. 246-47.
---