Items For Sale

Civil War Naval Petty Officer's Insignia
Available from Andy Danish
(email andyd_50@hotmail.com for information)
Price each $10
| | | |
| --- | --- | --- |
| USN "crow" blue on white | USN "crow" white on blue | CSN P.O.'s insignia |

Recently Greg Germain contacted me with word that he recreates period navigational equipment. His web page is available at http://home.attbi.com/~saville/backstaffhome.html. Another blacksmith, Michael Toombs, also approached NMLHA with information about his wares, which can be seen at http://www.mttoombs.com.

American Revolutionary War British Marine & Navy Belt Plate

These plates will be made from an example found in the Yorktown area. This plate is identical to the other known examples found in Philadelphia, New York and Yorktown. All are rectangular with the anchor ("not" fouled with a rope). There will only be a limited run of 24 of these plates made, and our unit will be keeping 10 of them. That leaves 14 for other interested units or parties. If more are requested we will consider having more made at that time, but we don not envision this to be an on- going thing, at least on our part. The price per badge will be $33.00 per badge, plus 4.00 shipping and handling (packaging) first class, U.S. mail. Total, $37.00 Insured packages will require additional cost if desired by the purchaser. Multiple orders will reduce shipping costs.


Orders will be on a first come, first serve basis. Orders and checks received that cannot be fulfilled will be sent back. Full amount should be forwarded to:

Jim McGaughey
2523 Ambling Circle
Crofton, MD 21114

(410) 451-8083
britmarine@hotmail.com

Please make checks or money orders out to me. My unit has secured production starting by putting down half the costs now. If, for whatever reason, the badges are not made (but they will be) a full refund will be given to you.

Sea Chests
Finished and plans
(Also rope work and tools)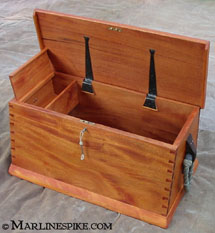 www.marlinespike.com/index.html